By Savanna Montiero
It was the first day of Autumn. The leaves were changing and dangling loosely from the trees, winter was coming. "I will not go an entire winter without seeing the sun" I thought to myself. I needed to book a vacation where I could whisk away my partner Shea in effort to escape the cold.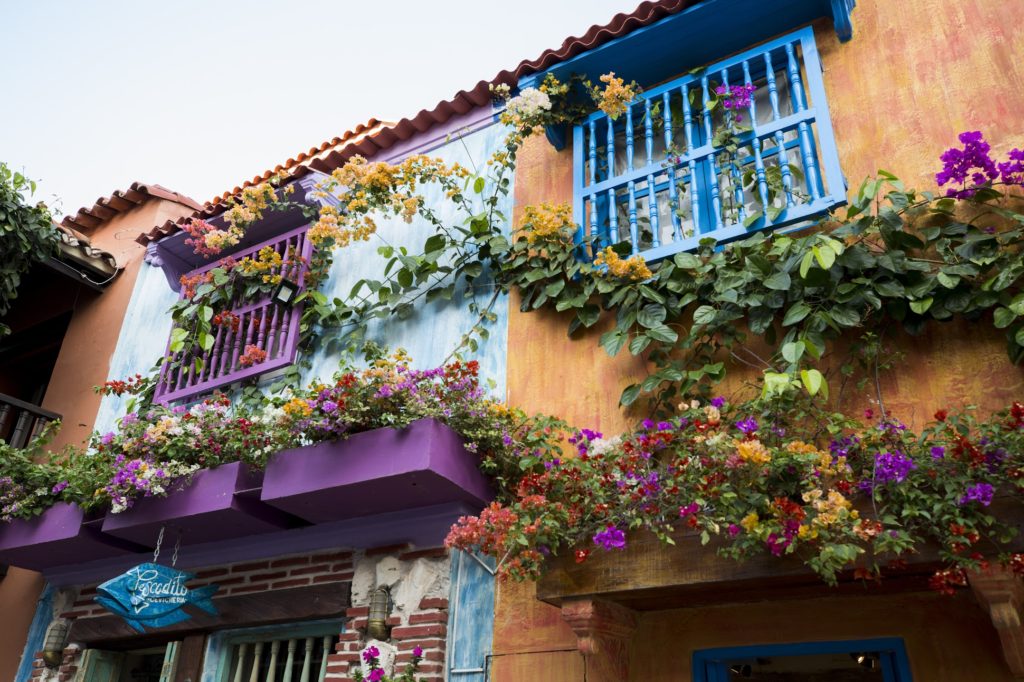 "Groupon!" I thought to myself, "an affordable option for anyone looking for a bargain." I was overwhelmed by the vast variety of destinations in front of me.
And then it was there, as clear as day, Cartagena, Colombia! I had seen photos of my favorite fashion blogger, Danielle Berstein (@weworewhat) in Cartagena just over a year ago. Colorful buildings, white sand beaches, and women carrying fresh fruit on their heads seemed perfect. Shortly thereafter, I booked our trip on Groupon through an agency called Gate 1 Travel.
Before we knew it, it was the coldest month of a New York winter and we were ready for an equatorial summer.
Two flights and 8 hours later, we arrived in Cartagena. We walked onto the tarmac and immediately noticed that it was 90 degrees warmer in Cartagena than in New York. The sun made my skin sparkle.
Having exchanged American dollars for Colombian Pesos while in the United States, Shea and I were quickly able to hail a cab and make a beeline for our hotel.
For four nights we stayed at Hotel Caribe by Faranda. It was an older style colonial hotel fit with a pool as well as a private section of the beach. Surrounding the pool and restaurant area were toucans, red and blue macaws, sloths and deer all harmoniously living in the garden. This was starting to feel like paradise.
It wasn't long before we met two other couples from the U.S. at the hotel. They had also booked their travel through Gate 1 and were equally unfamiliar with the city. Making friends in Cartagena was probably the best thing we could have done to ensure our trip was safe and enjoyable.
On our first full day in Cartagena we bought tickets to visit the Rosario Islands with our new friends. Each ticket came with a seat on the ferry, a white canopy bed per couple, a free welcome drink and fresh lunch. Per the local suggestion, we ordered "pargo", a whole deep fried red snapper. Absolutely delicious! In fact, all of the seafood we had throughout the trip was outstanding. After all, the entire city of Cartagena sits on water brimming with sea life.
As we explored Cartagena it became increasingly obvious that we needed to carry small denominations of Colombian pesos. Often times the locals would claim not to have change for large bills as a way to cheat a few extra pesos from tourists.
Las Bovedas in the Old City is a great shopping district for souvenirs. There are lots of beautiful works of art, handmade crafts and emeralds to admire here.
In Las Palenqueras, the women in colorful dresses carrying fruit baskets on their heads patrol the scene and encourage photos for generous tips.
We continued to walk around the Old City as we absorbed the beauty of vibrantly colored buildings with vines rising up the walls or flowers hanging over the edges of balconies in full bursts of color. We took most of our best pictures in front of these buildings and I'm sure I will always remember these picturesque buildings.
Feeling a little adventurous, Shea and I walked from Las Bovedas to our next destination, Castillo de San Felipe de Barajas. It seemed like it had the potential to be an easy walk, only 25 minutes away. About 5 minutes into the walk we decided it would have been safer to take a taxi. We enjoyed the preserved castle-fortress for its beautiful high altitude views. Bring a pair of comfortable sneakers for this trek! It was quite a steep hike up to the top.
While we were in Colombia, we also made a point to visit the Museum of Chocolate and Arte Moderno. The Museum of Chocolate is as delicious as you can imagine, and the staff encourages customers to try everything. Arte Moderno is closed for a siesta so we visited in the evening. The artwork was unique to South America and since we went in the evening, we enjoyed the museum as if it were reserved for just the two of us.
As if we did not buy enough souvenirs at Las Bovedas, we also stopped at Juan Valdez to pick up some very exquisite coffee. The coffee comes in various flavors, roasts and aromas. The staff will also grind the beans to your preference and then reseals the bag so that it appears it was never opened.
There are lots of fun things to do, delicious things to eat and beautiful things to see in Cartagena. If this article has convinced you visit Cartagena, I would advise a minimum of 4 nights in the city. Make sure to eat lots of seafood, bring extra batteries for your camera, and remember that everything is negotiable.
By Savanna Montiero