Our Venerable Congressman
Bill Whitehurst
What is life like after Congress? As Members retire, they often ask themselves what life will be like, especially if they have served a long time. In my case, it was eighteen years. For others, much longer. In any event, it depends on what you make of it. For some that means returning to a law firm, for others to be a lobbyist, as several of my colleagues on the House Armed Services did, representing defense contractors. I headed back to academe, thanks to the late George Kaufman.
It happened like this: Early in 1985, I announced my retirement and one evening, my late wife, Janie, and I dined with George and Linda Kaufman. George asked Janie   what I would like to do now that I was going to leave Congress. Janie replied, "Bill would love to go back to Old Dominion University and teach again." George said, "That's all I want to know," and got in touch with the University Board of Visitors, offering an extraordinary sum to establish an academic chair for me. It was the most generous thing that ever happened to me, and before his death, I thanked George many times for his generosity in taking me back to the classroom — my first love.
The chair that I possess, permits me to teach as long as I wish or am able. Had I been just a State employee, I would have been obliged to retire at age 65. So at 93, I'm still holding forth in the  classroom, teaching two courses, one in political science, and the other in history. In a long career, stretching back to 1950, I have taught over 13,000 students and set a record for longevity that will never be matched. Friends who have retired often audit my classes, and several former students do so as well. Apparently, they never got enough the first time around! For me, it sure beats being back in office, especially these days with all of the infighting taking place in Congress. I am a happy camper, ever grateful to George Kaufman for his generosity and to my Maker for all of the years
granted me.
Bill Whitehurst, U.S. Congressman (Ret.)
Now, Kaufman Lecturer in Public Affairs
.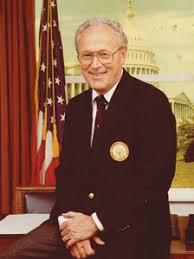 Bill Whitehurst is a professor and retired Congressman who served in the United States House of Representatives from the Commonwealth of Virginia representing the 2nd Congressional District.  He began his career as a professor at the Norfolk campus of the College of William and Mary, which became Old Dominion College in 1962. After serving as Dean of Students from 1963–1968, Whitehurst left academia for a nineteen-year stay in Congress. Upon retiring from politics, he returned to what was by then Old Dominion University, where he currently is a  Kaufman Lecturer in Public Affairs.