—More than 80 original artworks highlight Carle's nighttime scenes—
NORFOLK, Va. (March 19, 2019) – June marks the 50th anniversary of the release of The Very Hungry Caterpillar, the wildly popular picture book by Eric Carle. The beloved children's book author and artist is famous for his representations of insects, animals and classic fables. The Chrysler Museum of Art is excited to present a dynamic selection of original works by the artist in Eric Carle: Moonlit Nights & Other Illustrations, on view from June 14–Sept. 8. While Carle traditionally illustrates daytime scenes by depicting figures against unmarked white paper, he evocatively collages his nighttime stories over painted fields of deep blues and swirling indigos. This exhibition focuses on the artist's nighttime scenes and the stories they tell about twinkling stars, blinking fireflies and the gently smiling moon.
"If you think you already know Carle's work from his books, just wait until you see the original collages. They're amazing." said Seth Feman, Ph.D., the Chrysler Museum's Curator of Photography and Curator of Exhibitions. "Carle's stories are always touching and compelling, but the vibrant colors and layered textures of his handmade works add another dimension."
The exhibition features more than 80 original artworks that draw from more than 30 of Carle's books and span the artist's distinguished picture book career. Highlights include selections from The Very Hungry Caterpillar (1969); The Grouchy Ladybug (1977); The Very Quiet Cricket (1990); Papa, Please Get the Moon for Me (1986); Draw Me a Star (1992) and The Very Lonely Firefly (1995).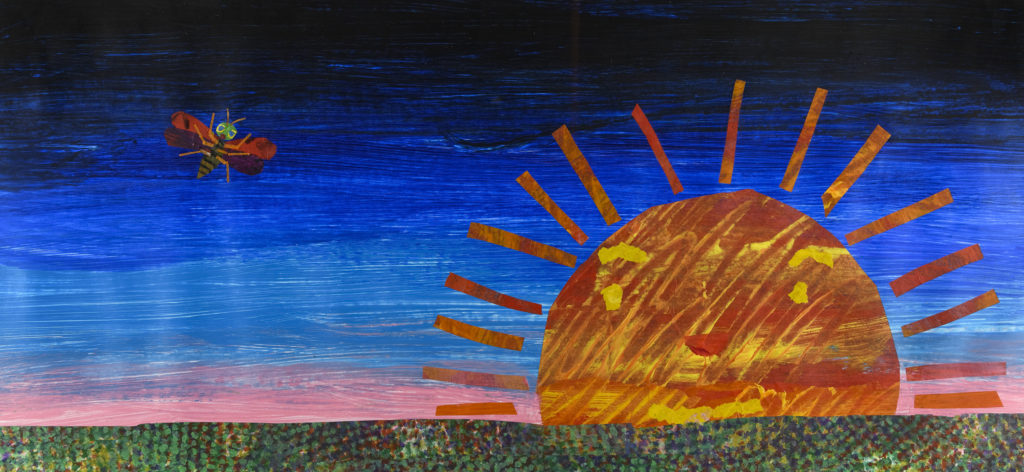 In addition to the artworks, visitors of all ages will enjoy a dedicated interactive gallery space with hands-on artmaking activities and a reading library equipped with the full range of Carle's books. Visitors can reenact their favorite Carle stories and create their own narratives with The Nonsense Puppet Show, an area filled with Carle-inspired hand puppets and costumes. The Very Marvelous Magnetic Board will encourage visitors to use colorful and textured magnets to make collages in the style of Carle. In Watch Out! A Spelling Bee!, visitors will use a pegboard to spell out words and stories related to the nearby works, connecting literacy to Carle's familiar imagery.
"These activities allow Museum visitors to experience art in a more hands-on way," said Maegan Douglas, Chrysler Museum Educator for Wonder Studio and Family Experiences. "Our youngest visitors will relish the opportunity to use their hands, be playful and have fun all while experiencing the works of art around them. The exhibition is sure to engage Museum visitors of all ages."
Eric Carle: Moonlit Nights & Other Illustrations is organized by The Eric Carle Museum of Picture Book Art, Amherst, Massachusetts.
The Chrysler Museum of Art presentation is made possible by Wells Fargo.