By Al Midgett, Founder and CEO
I founded The Noblemen in 1995 in order to pay it forward in thanks for the gift of a surviving child from extreme prematurity who was given a 2% chance of survival. The medical expenses exceeded a half million dollars and the Hampton Roads community jumped in and supported me in countless ways.
I have enjoyed the platform of helping local kids for almost 25 years. We meet monthly and prepare and serve dinner to 40 to 50 members (out of 100) who have the time each month to talk about our recent philanthropy and discuss possible fun and upbeat ways to raise money to support what we do.
It is truly a "connect the dots" mentality as we hear from our members about current opportunities to support kid's with special needs or who are in crisis.
This month we will host over 300 kids and their families at Oceana NAS. Every year on Friday prior to the Air Show weekend the base conducts a full day of practice. The CO and XO of the base have been long-time supporters of The Noblemen and what we do and allow us to use the Chalet directly next to the announcing platform. Each of the pilots and participants is strongly suggested to stop by and say hello to our special guests. Because of the lack of the crowds, the children we support can enjoy the time without being over stimulated by the craziness of the weekend attendees. It truly is a private showing of the best Airshow on the East Coast. We are so thankful for the excellent relationship we have enjoyed for over a decade.
In November, we start working on a large infrastructure of placing over 250 toy boxes in local banks and businesses to collect toys to support our Toy Drive that provides for over 5000 local kids that would normally be left out at Christmas time. The real magic for us is that the gifting of the many toys is handled by our kids and their friends who sit down with each child. Our members and their children listen intently and then goes to shot to fulfill each child's Christmas wish.
The foundation of our membership is truly based on the premise that "giving is the greater gift than receiving. Our lives are changed daily by the actions of what we do!
Locally, Wasserhund Brewery and the Noblemen are presenting the 4th Annual Oktoberfest Event for all of Coastal Virginia and beyond on September 21st from noon till 5pm at Hunt Club Farms in Virginia Beach. This event will serve as the quintessential Oktoberfest for our area featuring over 30 breweries, traditional German food and fair, festival atmosphere, and so much more.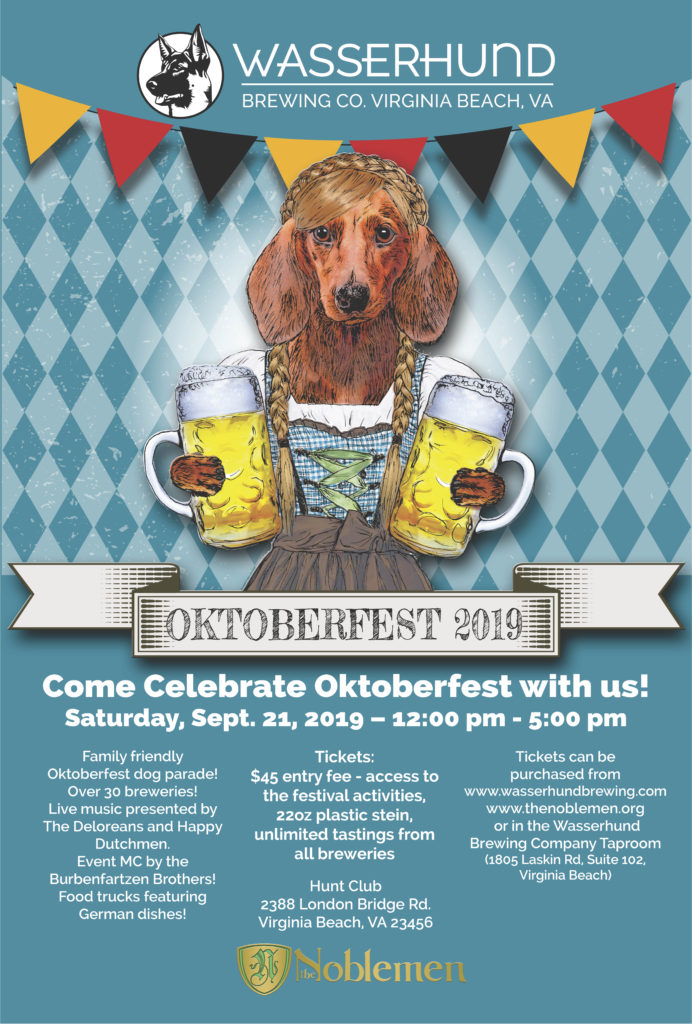 This year's amenities include:
– The opportunity to enjoy multiple styles of beers including, of course, a wide variety of German beers.
– Featuring live music by The Deloreans
– Featuring opening ceremony with German music by the Happy Dutchmen and special cask tapping
– German Dog Costume parade
– Bounce houses and kid contests for family friendly fun
– Portion of proceeds will be donated to The Noblemen to support local charities
– Fabulous views of the Oceana Air Show
– Appearance of the Burpenfartzen Brothers
Brewery list:
Wasserhund Brewing Company
Commonwealth Brewing Company
St. George Brewing Company
Back Bay Brewing/ Farmhouse Brewing
The Virginia Beer Company
Caiseal Beer & Spirits Co. (The Vanguard Brewpub & Distillery)
The Garage Brewery
Benchtop Brewing Company
Home Republic
Bearded Bird Brewing
Reaver Beach Brewing Company
Deadline Brewing Project
Smartmouth Brewing Company
Gordan Biersch Brewing Company
Coelacanth Brewing Company
Rip Rap Brewing
Legend Brewing Company
New Realm Brewing Company
Bold Mariner Brewing Company
Tradition Brewing Company
MoMac Brewing Company
Cape Charles Brewing
Makers Mark Brewing Company
Oozlefinch Brewing Company
Precarious Beer Project
Big Ugly Brewing Company
Bull Island Brewing Company
Elation Brewing Company