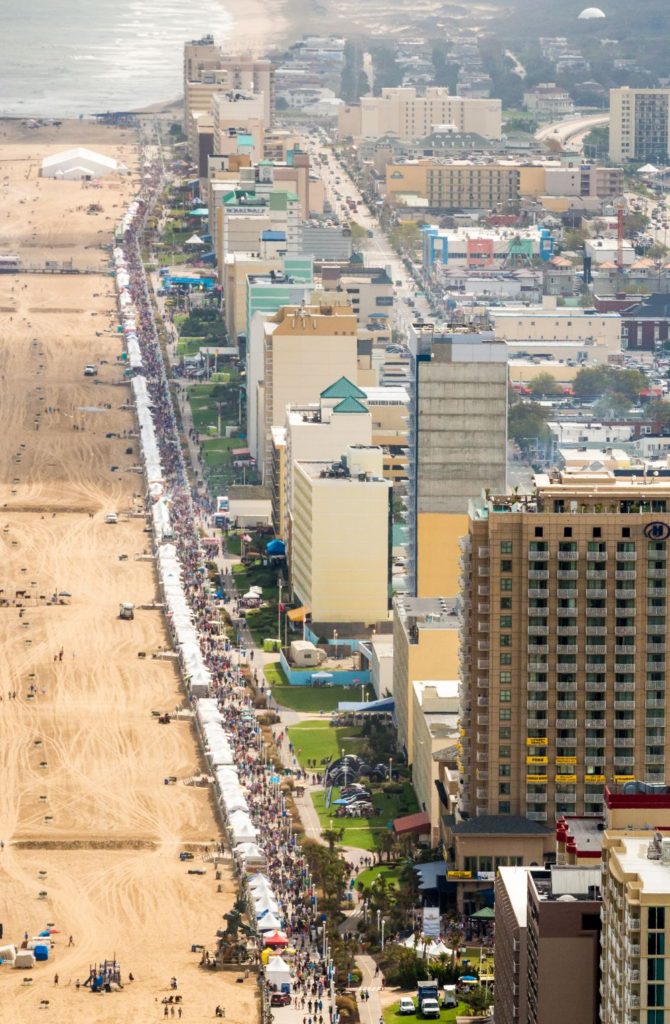 2019 marked the 46th anniversary of the Virginia Beach Neptune Festival! Every year, hundreds of thousands of people celebrate at the festival's many offerings. Daily concerts at festival stages were scattered along 32 blocks of the Boardwalk and featured 27 performances from local, regional, and national recording artists. On the Boardwalk, you could find over 265 artisans displaying handmade work, at an Art & Craft Show that has been ranked #5 out of 200 Fine Art and Design Shows across the country. Twenty-two magnificent sand sculptures were created by world-renowned international sculptors at Neptune's International Sandsculpting Championship. Other weekend events included Neptune's 8k Race, Grand Parade, Volleyball Tournament, Atlantic Regatta, Youth Art Show, and more!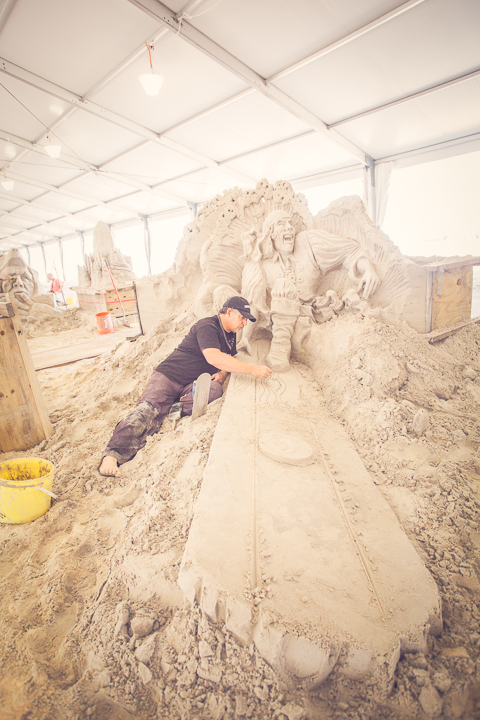 NEW in 2019! All of these events were amazing, free and open to the public:
SANDSCULPTING CLINICS ON THE BEACH
Master Sculptor, John Gowdy, held teaching clinics on the beach for a chance to learn from a pro! Classes were held with friends, classmates, coworkers provided for a once in a lifetime, hands-on learning experience. All sand, water, and tools were provided.
FAMILY FUN ZONE
Held on 15th Street On The Boardwalk, on the Virginia Beach Oceanfront. Families loved cooling off under the shade of a bubbles tent, played yard games and enjoyed movies.
They enjoyed testing their skills with cornhole, giant jenga, connect four, and foosball…and danced it out to the house DJ. Once the sun went down, the silent disco and movie were tons of fun!
BEACH YOGA & FITNESS WAS HELD ON THE BEACH
Neptune Days were started off right with free yoga sessions on the beach. All levels were welcome, it was a chance for us to relax and become one with the sea. Provided by LIFT Fitness Foundation, in conjunction with Studio Bamboo Institute of Yoga.
NEPTUNE'S FITNESS CHALLENGE
This family-friendly fitness event got everyone's blood pumping! Activities incorporated the beachfront strength training and body weight exercise apparatuses provided at the 36th Street Fitness Park.
Donations were accepted onsite to benefit the LIFT Fitness Foundation. LIFT Fitness Foundation serves homeless individuals, people in substance abuse recovery, veterans and children in our most vulnerable communities. LIFT's mission is to create a foundation of wellness through exercise and nutrition education to uplift individuals in need; giving them hope, encouragement, and a sense of belonging as they prepare to take steps forward in their lives.
#VB STRONG
In remembrance and in honor of those affected by the tragedy in our dear city on May 31, 2019, the Neptune Festival paid tribute as we grieved the lives lost and celebrated the heroism exhibited by our first responders.
A special sandsculpture was created to honor the victims and pay homage to our first responders. It was visible and accessible from the boardwalk outside of the International Sandsculpting Championship tent, so all Virginia Beach citizens could see it.
At the 31st street park on Sunday September 29th an event was held to honor the victims and recognize the heroism that our first responders exhibit all year long. This event included presentations, music, and children's activities and was free and open to the public.
As a special gift, all City of Virginia Beach employees plus one guest were invited to experience for free the International Sandsculpting Championship.
VIRGINIA BEACH POLICE DEPARTMENT ON THE
BOARDWALK
Interactive displays were present on the Boardwalk, including tours of the Mobile Command Vehicle and Bomb Squad Response Vehicle offered by our Virginia Beach Police. These two vehicles house state of the art equipment, and are critical to the safety of our community.
There was even an opportunity to visit with Virginia Beach Mounted Patrol to get an up close view of the horses who serve our City.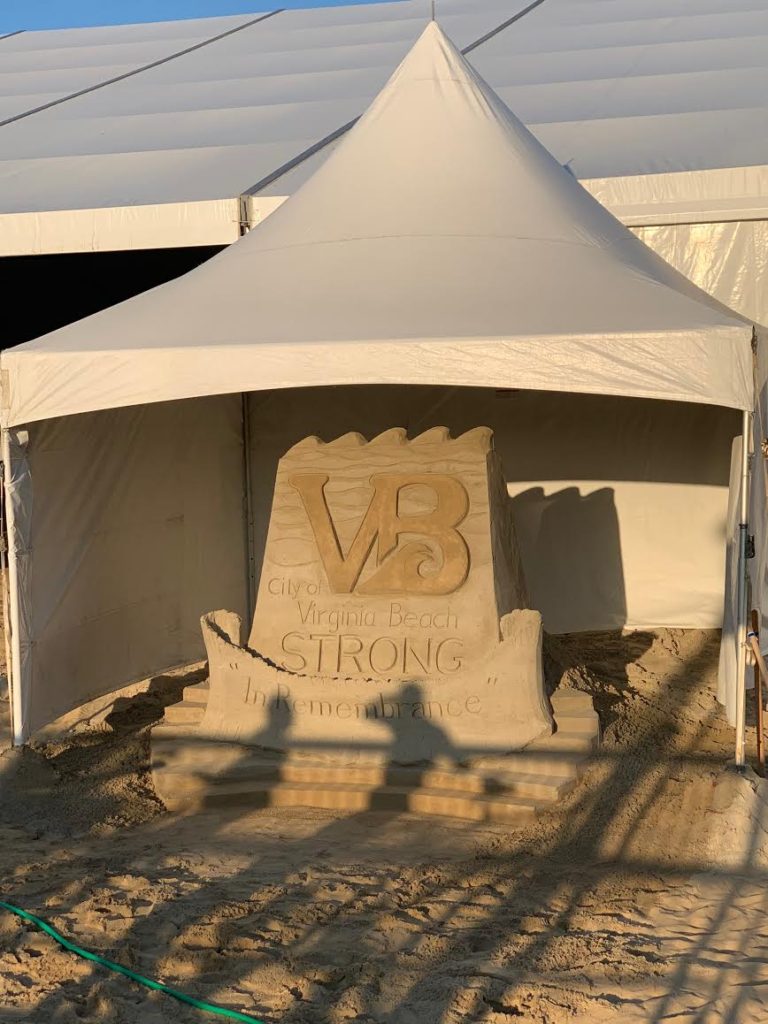 The success of the 2019 Neptune Festival proves again why all of our citizens enjoy this festival dedicated to our locals' enjoyment of our Oceanfront before the cold weather sets in.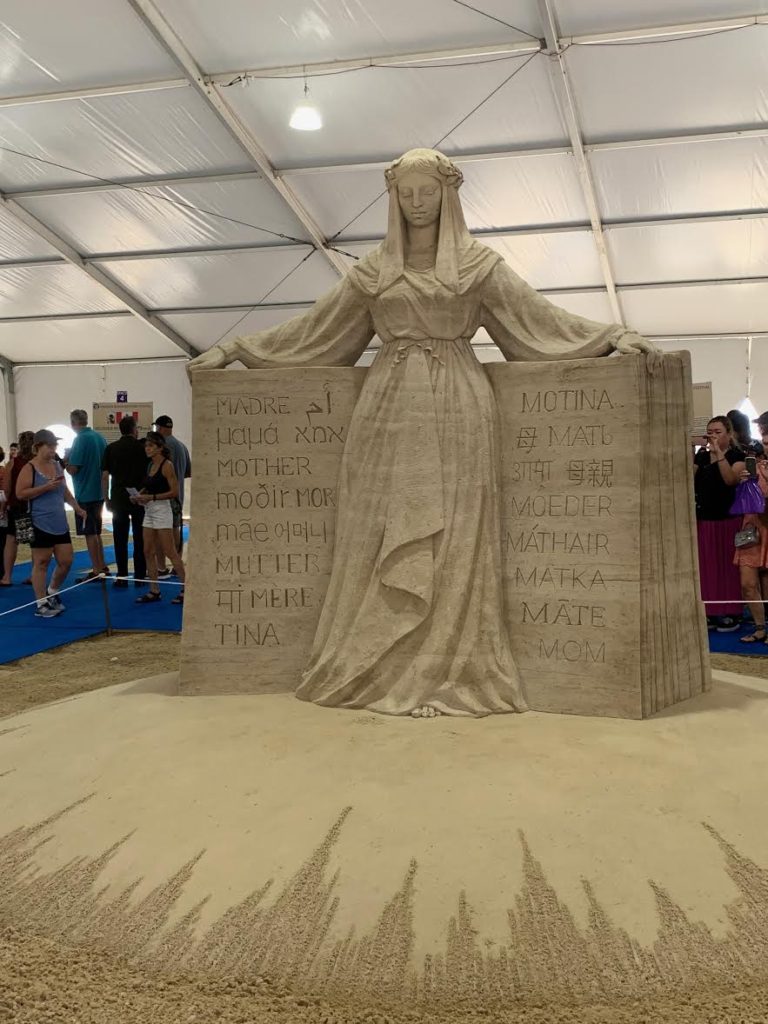 Thanks to everyone who contributed to this wonderful Virginia Beach event!