Girls Play House, Women Build Them
Habitat for Humanity of South Hampton Roads to Hold Second Annual All-Women Build for a Deserving Family
In 1988, a group of concerned Portsmouth citizens founded Habitat for Humanity of South Hampton Roads (Habitat SHR). Dedicated to making affordable housing a matter of conscience and action, Habitat SHR has since guided more than 230 families to homeownership.
Habitat SHR knows that the value of having a stable place to live reduces dependency on government subsidies, raises property values and teaches civic responsibility. Studies show that children of homeowners are twice as likely to graduate college and 60% more likely to own their own homes within 10 years of moving out of their parents' household.
"We know Habitat can change the fortune of families and, in doing so, create a ripple effect of opportunity across the region," says Habitat SHR Executive Director Frank Hruska. "It's why philanthropy is so important. Our donors make a real impact in the important work of housing equity here in Hampton Roads."
Every year Habitat looks for unique ways to further its mission of affordable housing while partnering with businesses with a passion for corporate social responsibility. The COVID-19 pandemic made the typical golf tournament and dinner fundraisers difficult.
So last year Habitat SHR added a new opportunity created specially for their female supporters called Women Build Week (WBW). Held in Chesapeake in August, the project recruited and empowered women from all walks of life to build a home with a deserving, low-income family.
Many women came to the build site for their four-hour shifts having never before handled a power tool.
"We all learned to use equipment that seemed intimidating at first glance," says Tidewater Home Funding's Charlene Turner. "But in a short time we learned new skills, applied them to the project and saw real progress.".
Judging by the nonstop smiles and sheer level of all-female participation, Women Build Week produced a powerful and visible impact on housing in Hampton Roads. "Women Build Week rocks," says Kendra Matthews-Taylor at the Chesapeake Sheriff's Department. "We had the best time ever!"
"Our team had a great time participating in the Women Build Week," says Caitlyn Gurnee of Wall Einhorn & Chernitzer, P.C. "It was a wonderful opportunity to work together doing something outside of what we do on a daily basis. Being women, the assistance we provided to a future female homeowner made it all the
more satisfying ."
Habitat SHR is bringing WBW back again this year from June 7-11, this time to construct a home in Suffolk.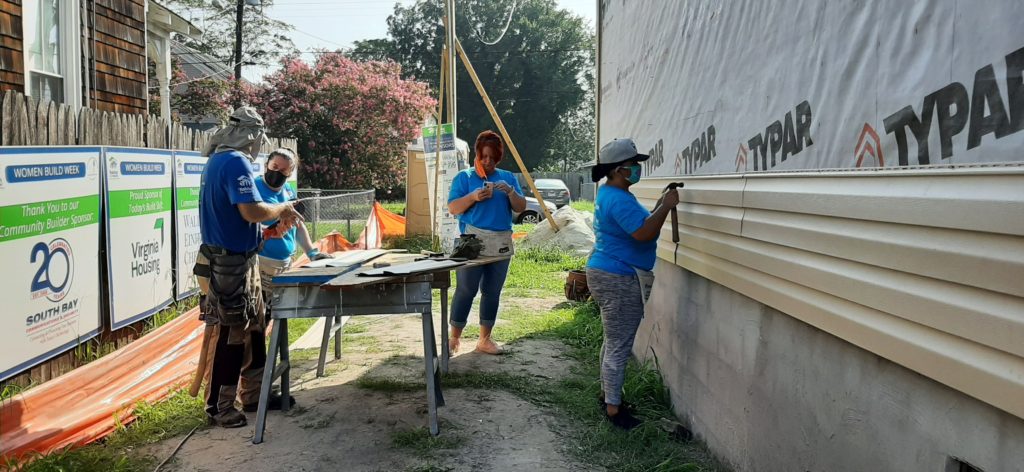 "Women Build Week is an amazing example of women empowering women," says Habitat SHR Program Director, Rainham Rowe. "Last year, we had the homebuyer, a single mother, putting in her sweat equity alongside women sponsors. It was inspiring to see everyone come out and build something special together. It's a perfect team building event."
The nonprofit is currently looking for Women Build Week sponsors. Sponsorships range from $250 – $5,000. Companies can be either a women-owned business or one run by an owner who wants to provide a unique opportunity for female employees.
Individuals can participate as well. Habitat SHR is recruiting female team captains to spearhead their own fundraising group. A fundraising team of up to 12 women that raises a minimum of $2,500 earns an on-site, 4-hour build shift.
WBW supporters also have the option to form a virtual team for the build. Every fundraising team, in-person or virtual, is given access to their own personalized peer-to-peer fundraising page directly tied to Habitat SHR's donor system.
Companies or individual teams that donate above the minimum of $2,500 will be in the running for the coveted "Golden Hammer Award," and the top fundraising team will receive a group prize!
For more information on Women Build Week, contact Habitat SHR Project Manager Rainham Rowe at [email protected] .