by Ryan McCreadie
The global COVID-19 pandemic took the world by storm, and many people and businesses became casualties of this unrelenting virus. Regions of the country such as Virginia Beach that typically have thriving tourism saw their numbers drastically lower this year. Like most beach cities, Virginia Beach depends upon tourism as its primary revenue driver. Like their sister cities, they felt the pressure this past summer as popular tourist attractions remained at minimal capacity or closed entirely.
The suddenness forced city representatives to reevaluate and rethink the region's future economic stability as a top priority. Over the past ten months, as the area was ground to a halt, the city of Virginia Beach, Mayor Bobby Dyer, and his team have been meeting with vendors and federal funding specialists to implement a plan that would convert Virginia Beach into a SMART city and bring the city back stronger.
Some of the companies the mayor has met include Pikaso, a Next Generation Consulting firm working with Government, Industry, and Academia to develop sound economic ecosystems to create useful workforce initiatives, and Artis International, a professional services firm specializing in the implementation of user-friendly Blockchain-based applications. Artis, Pikaso, and their partners focus on leveraging technology to drive growth and long-term sustainability aligned with the Mayor's vision for Virginia Beach as a SMART global technology hub where world-renowned corporations, universities, and local human talent live and work.
To achieve his mission, the mayor is currently assembling a technology task force to begin working hand-in-hand with the aforementioned vendors to understand and implement technological infrastructure upgrades congruent with the initiative. The first step in the necessary upgrades to become a SMART city is to look at what a SMART city is and how to attain desirable outcomes by leveraging emerging technologies such as Blockchain, Artificial Intelligence, Predictive Analytics, and high-speed fiber-optic cables.
Blockchain and Artificial Intelligence can provide tremendous value when standing up a Smart City through more secure, and efficient data storage and streamlined workflows. A Blockchain is a secure, decentralized network with millions of computers operating on the network to validate and store data to be quickly accessed by the appropriate party. The key concept of Blockchain infrastructure is that it is a decentralized network meaning there is no centralized fail point making it less susceptible to a malicious hack while providing a more cost-effective business model.
In addition to Blockchain where the data that is being generated will live permanently, a Smart city incorporates Artificial Intelligence and Data Science to turn data that is generated every day by citizens and businesses in the community through mobile applications and websites, into useful information. The data that is generated is categorized, labeled, and then turned back into useful information that city representatives can use to make informed decisions. An example of this would be data-driven insights around neighborhoods with a higher number of vaccinated citizens vs. areas with non-vaccinated citizens. This information can provide insights for city representatives to allocate more resources to those non-vaccinated areas such as more doctors, more funding, more vaccines, etc. While this is just one example, it highlights the value of how Virginia Beach can utilize technology to provide better services to citizens through a citizen-friendly experience.
The goal of converting Virginia Beach into a Smart city is to encourage innovation not only in Virginia Beach but also between the surrounding cities to foster better outcomes. The region's Regional Connectivity Ring makes it possible for other surrounding cities to adapt the upgraded infrastructure for their needs, ultimately making the entire region a Smart region. When put all together, the fiber-optic cables coupled with Blockchain and Artificial Intelligence provide faster, more useful information in a secure, cost-effective, data environment primed to attract interest from the military, ports, global corporations, and universities. This will result in higher-paying jobs, education, and overal increased quality of life for the citizens of Hampton Roads.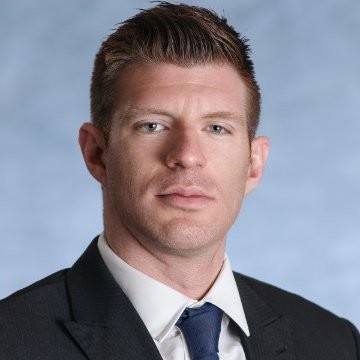 Ryan McCreadie
As a veteran of the United States Navy, Ryan has always had an innate drive and passion for adventure and challenges. He brings these traits to ARTIS International, which he and two other partners founded in 2017 with the goal of bringing the value of Blockchain to business enterprise. Since the company's inception, Ryan and his team have actively been involved in identifying key relationships and solutions across Argentina, Brazil, Mexico, Spain, and the United States.